The Five Arrows
Important update:
Following the Governments recent announcement, we regrettably inform you that we have taken the decision to remain closed until our proposed reopening date 3 March 2021, pending government reviews. If your booking has been affected by this our team are very busy contacting everyone so please bear with us and rest assured that a member of the team will contact you.
The Five Arrows is a charming country pub with boutique style bedrooms set at the gates of Waddesdon Manor, Buckinghamshire.
Surrounded by many rolling hills and beautiful Buckinghamshire countryside, stop by for a glass of wine or a warm hot chocolate with the family (including the dogs!) after a muddy walk and find the perfect spot to rest.
Open Wednesday-Sunday we take pub food to the next level, find traditional British favourites with an extra flare. Our menus are carefully designed by our brilliant team of chefs based on ingredients from local farmers and fruit and vegetables from Waddesdon's own kitchen garden.
With the perfect mix of original Elizabethan chimney stacks, original wrought ironwork and modern bar and restaurant area, the Five Arrows is the perfect place to meet friends for a drink by the fireside, or to gather with friends and family for a wonderfully prepared hearty homemade meal.
If just one evening isn't enough for you turn your trip into a staycation in one of our 16 boutique style bedrooms.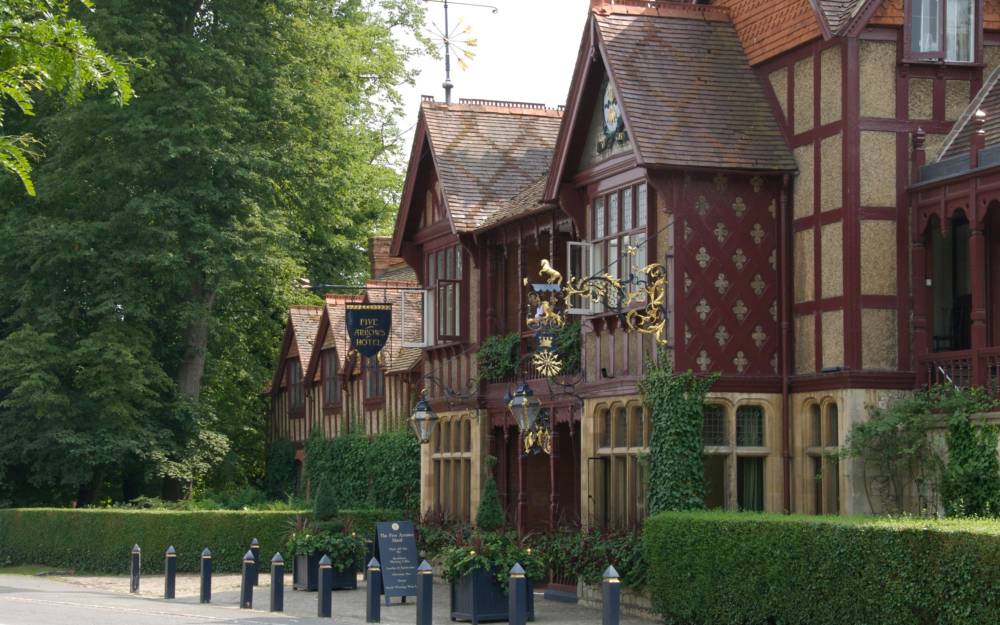 The Five Arrows is a Grade II listed building at the gates of Waddesdon Manor built on the site of an old coaching inn. Its name is derived from the Rothschild family emblem of a shield surmounted by five arrows, pointing upward and tied with a ribbon. Built in 1887 as part of Waddesdon Estate by Baron Ferdinand de Rothschild it was originally used to accommodate the architects, craftsmen and artisans working on the Manor itself. It was designed by architect/builder, James Taylor, who lived locally in Bierton; in his own "authentic" English style of half timbering, elaborate Elizabethan chimney stacks, and wrought ironwork. Architecturally it is one of the most striking buildings in the village.
Nearby shopping, entertainment and places to visit