The Five Arrows
Following the government easing of restrictions, we have made some slight changes. Our staff will continue wearing masks around the hotel, and we advise our guests to do the same however this is personal choice.  Sanitiser's will continue to be placed on all tables and around the hotel. Guests can now order at the bar, but will then be asked to take a seat whilst we bring your order over to their table.
The Five Arrows, located at the gates of Waddesdon Manor, is a grade II listed boutique hotel with 16 newly renovated bedrooms and a modern 2 AA rosette bar and restaurant..
Our front of house team pride themselves on their hospitality and aim to make every guest visit a memorable one and our talented team of chefs consistently create new delicious  dishes using ingredients from local suppliers and produce from Waddesdon's own kitchen garden.
Whether you are looking to take a break from reality for a couple of days, explore the beautiful surrounding countryside, catch up with friends over a coffee (or cocktail) or to simply indulge in great food and wine; you are sure to find what you are looking for.
We look forward to welcoming you (and your dogs!) to the Five Arrows soon.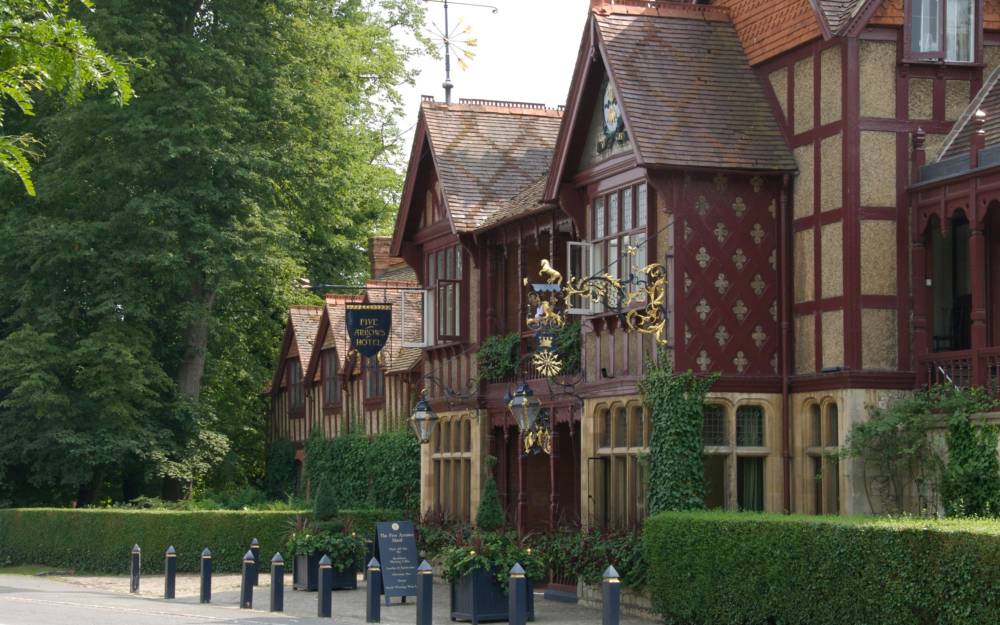 The Five Arrows is a Grade II listed building at the gates of Waddesdon Manor built on the site of an old coaching inn. Its name is derived from the Rothschild family emblem of a shield surmounted by five arrows, pointing upward and tied with a ribbon. Built in 1887 as part of Waddesdon Estate by Baron Ferdinand de Rothschild it was originally used to accommodate the architects, craftsmen and artisans working on the Manor itself. It was designed by architect/builder, James Taylor, who lived locally in Bierton; in his own "authentic" English style of half timbering, elaborate Elizabethan chimney stacks, and wrought ironwork. Architecturally it is one of the most striking buildings in the village.
Nearby shopping, entertainment and places to visit